"The Kitty Kelley Files" on REELZ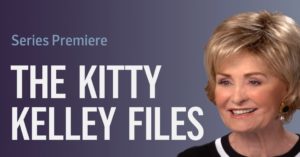 The Kitty Kelley Files premiered on REELZ tv channel on July 29, 2017.  Subjects covered in weekly episodes airing at 10 p.m. EDT on consecutive Saturdays are Drew Barrymore, Frank Sinatra, Julia Roberts, George Clooney and Princess Diana.
An introduction to the series by Kitty Kelley is posted on YouTube here.