Posts Tagged 'Barbara Sinatra'
by Kitty Kelley
It was only natural that I read Barbara Sinatra's memoir, Lady Blue Eyes, published recently. How could I not? After all, I had spent four years researching and writing a biography of her husband in 1986:  His Way: The Unauthorized Biography of Frank Sinatra.
The book became number one on the New York Times best seller list and sold over 1 million copies in hardback, but the subject sued me before I ever wrote a word, saying that he and he alone or someone that he authorized was entitled to write his life story. He dropped his lawsuit after a year, but by then he had effectively put the world on notice that he did not want the book written by someone who was not in his control.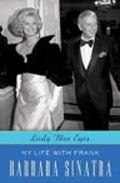 Mrs. Sinatra writes in her memoir that Frank despised the press with the sole exception of former TV host Larry King, novelist Pete Hamill, and the late James Bacon, who wrote a Hollywood column for the Los Angeles Herald-Examiner.  No surprise there as each man genuflected to "Ole Blue Eyes."  And there was much to admire in the man—his monumental talent, great showmanship and unparalleled philanthropy. But there was also a dark side, violent and frightening.
In researching His Way, I traveled to Hoboken, Manhattan, Hollywood, Las Vegas and Palm Springs to interview Sinatra's relatives, friends, employees, co-stars, musicians, business associates, directors, producers, and former lovers, most of whom spoke on the record. Yes, there was a long line of women—show girls, call girls, movie stars, manicurists, even the wives of some of his best friends. But aside from his own wives, most of Sinatra's women were simply there to help him make it through the night.
An exception was Nancy Gundersen, who I knew had played an important part in his life for several years before she became the wife of New York ob-gyn Martin L. Stone, M.D.  Ms. Gundersen declined to be interviewed when I called her years ago. So I was surprised  a few months ago when she approached me after a speech I had given for the College of the Desert in Rancho Mirage. "It's been almost 25 years since you called," she said, "but you can have that interview now, if you'd like."
We both laughed, made a date for lunch the following week and spent hours comparing notes on the Frank she knew and the Frank I wrote about. Elegant, pretty, and whip smart, she was delightful, and I saw immediately why Sinatra had been so charmed.
"Frank and I met on a blind date in New York in 1970 when I was the house model for Anne Klein," she said. "I had had been working on an M.A. in International Relations at the New School before that.  He was 23 years older than me but we clicked immediately…. On our first date He gave me his antique Dunhill lighter. Anne wanted me to look great every time I went out with Frank so once she loaned me a gorgeous mink coat. Frank loved the coat and complimented me on it but I told him the truth–that it wasn't mine, that I had borrowed it for the evening. The next day I found an envelope filled with $100 bills and a note that said: 'Buy your own mink coat.' So I did.
"Anne Klein loved our affair and always dressed me when Frank and I went out.  One night Frank asked me to go to the theater with Loel and Gloria Guinness. I was too young to know that Gloria Guinness was a renowned beauty and supposedly the most elegant woman in the world but Anne knew what I was up against so she dressed me in a gorgeous white silk dress, cut on the bias, topped by a spectacular orange silk patch work coat that Frank just loved because, as you know, orange was his favorite color."
Nancy Gundersen Stone recollected sweet times with Sinatra. "We had a wonderful affair for two years that melted into a deep friendship for another two years…  I loved Frank, but was never in love with him… I spent many, many week-ends at his house in Palm Springs and I have to laugh as I remember the deep freeze I'd always get from Dinah Shore and the girls who were pushing him to marry Barbara Marx…. He told me Ava had been the great love of his life and that that love almost ruined him. He never got over her—ever."
Blessed by good looks, a good education and Anne Klein, Nancy had the cachet (or "class" as Frank Sinatra said) to travel easily in all of his worlds. He flew her to Las Vegas for his shows and to weekend with him at publisher Bennett Cerf's house in Westchester County. "I was not a show girl," she said, "so he felt he could introduce me to all sorts of people."
She also accompanied him to his mother's house in New Jersey when he signed his record contract. She remembered Dolly Sinatra as "rawhide tough," but adored by her son. "That night Frank wrote a check for her for $1 million."
Barbara Sinatra writes in her memoir that Frank never discussed his finances with her. Yet he seems to have shared many such details with Nancy Gundersen. "When he drew up the trust funds for his kids he made sure that Frank, Jr. got his payout at the age of 21 but the girls, Nancy and Tina, could  not get their money until they were 35. 'Otherwise, they'll marry bums,' Frank said."
Nancy Gundersen came to know Frank's daughters very well, having spent so much time with them at his house in Palm Springs. "One night Frank was receiving an award at Chandler Center and he escorted Nancy Sr. and his daughters.  I was driven to the ceremony by Sarge Weiss. It was a bit uncomfortable, especially when Nancy, Jr. pretended not to know me in front of her mother, but Tina, who is like her father, ran over to give me a big hug.  Frank and I left right after for Palm Springs."
Interesting to note that after 22 years of marriage to their father, Barbara Sinatra does not mention either of his daughters in her memoir. Since Frank Sinatra died in 1998, the three women have not spoken, except through lawyers. Their fights are primarily over money, although each was magnificently taken care of in Sinatra's will. The two daughters have written books suggesting that the blond Las Vegas show girl who became their step-mother was not worthy of their father's iconic name.
Nancy and Tina Sinatra, both of whom have been married and divorced never took their husbands' names, preferring instead to go through life as Frank Sinatra's daughters. And who could fault them? In its day, the Sinatra name could open any door. As Barbara Sinatra writes, she met presidents, prime ministers and potentates. She details the delights of being Lady Blue Eyes (the mansions, the mammoth jewels, the private planes, the famous friends) and the dangers (the violent fights, the black moods, the uncontrollable temper). She also dishes.
She dismisses former First Lady Nancy Reagan as a user. "[She] was never a close friend, and it had nothing to do with the fact that she seemed to have a crush on my husband…. I felt she took advantage of Frank's huge heart…. During long distance telephone calls and their lunches together whenever they were in the same town, I think Frank became Nancy's therapist more than her friend."
After telling readers that her husband, "Charlie Neat," was obsessively clean, took three showers a day and allotted $1 million a year to himself to lose at gambling, Barbara Sinatra writes that as his wife it was her job to vet the guest list of every party to which they were invited. If there was a guest that Frank did not like, Frank did not attend. When Henry Kissinger planned a dinner in Frank's honor, he had to submit the guest list to Barbara.  Unfortunately, for Kissinger, he had invited Barbara Walters, whom Sinatra detested, so Sinatra refused to go to the party. Stunned, Kissinger called Barbara Sinatra three times, begging her to get her husband to reconsider, but Sinatra was adamant. Mrs. Sinatra told the former Secretary of State that her husband would not go anywhere Barbara Walters was present. Finally, Kissinger had no choice but to disinvite Walters. Only then would Frank Sinatra agree to attend the party in his honor.
Right, wrong or rude, the man certainly did it His Way.
Photo credits: Nancy Gundersen with Frank Sinatra, courtesy of Nancy Gundersen Stone; Frank Sinatra 1986, Frank Sinatra with the Reagans in 1985, and the author in 1986 used with permission of the Estate of Stanley Tretick.
Cross-posted from Huffington Post